NAMM 2013: our highlights
Last week, around the world, musicians, producers and other gear-lusters were tuned to the airwaves for news of the latest gear to put on their shopping lists. We are of course talking about Winter NAMM 2013. After a few days rest, deliberation and petty squabbling, here are some of the pieces of gear that caught our eyes as we debated their merits over rosewood-coloured cups of tea and half a bag of stale Maltesers we found under a desk somewhere…
String theory
In terms of instruments with necks, there hasn't been anything that particularly grabbed our attention over and above the usual suspects, but Fender have kept us talking over our morning coffees. We like the Fender Modern Player Series, and the Vintage Series basses that look pretty hot. And the new version 2 Mustang amplifiers and stunning new range of '65 Princeton Reverbs look quite tidy in their custom finishes.
One thing that does poke its head above the crowd is the Fender Mando-Strat. Any four-string electric mandolin that makes you want a four-string electric mandolin when you had previously never even considered wanting a four-string electric mandolin has got to be doing something right.
Ins and outs
There have been a lot of new audio interfaces announced and, perhaps not surprisingly, iOS compatibility has been a major feature of all the announcements. Alesis' iO Hub looks quite neat and tidy, as do the M-Audio M-Track interfaces. For us though, the new Apogee One is the star. With the improvement of the already great conversion, the ability to record from instrument and mic inputs at once, improved metering, metal case and, perhaps most importantly, a stripe, the new One looks the business.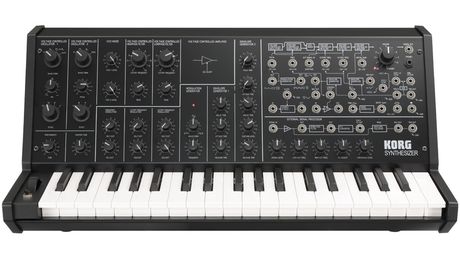 Minisubs
From the synthesiser side of the fence, any new release from Moog is always going to prick folks' ears up, and the Sub Phatty certainly doesn't disappoint, lots of front panel knobs for hands-on tweaking goodness, the multidrive circuit, and a price that comes in below the Little Phatty. That said though, Korg's new MS-20 Mini really looks to have stolen the show. Pretty much a perfect recreation of the 1978 classic, but in a smaller and lighter box and with MIDI and USB! With a UK price of £499, it really does look fantastically appealing and we want one. Actually, an honourable mention for the Dave Smith Prophet 12, which just looks absolutely mind-blowing, but not one for the faint of wallet…
Rhythm sticks
Korg are at it again with the Wavedrum Global, the latest version of the incredible and inspiring Wavedrum, offering their largest library of sounds on the Wavedrum so far, and the Arturia SparkLE looks pretty nifty as well with a nice small, portable controller and a huge amount of synthesis and sequencing power for studio, mobile and live music-making at a worryingly tempting price.
The wee things of desire
There have also been a fair few things that fall into that almost impulse buy territory, certainly within the "I think I'll have one of those" price range. Akai lead the way with their MPX8 SD Sample Pad Controller. While there are plenty of pad controllers to control your software, having a piece of hardware that makes noise that you can plug into the desk is always good piece of mind, just in case that laptop decides to have a 'moment' in the middle of your set. The wireless Numark Orbit, while being marketed as a DJ controller, may well find its way into a few other rigs: imagine taking your Ableton Live clip triggering and effects control out into the crowd during your next live set…
Wallets on standy
While there don't seem to have been too many products that have made people instantly take their wallets out and throw their credit cards to the reps in the NAMM booths, there have been a good few incremental and common sense updates to a lot of products. And from within Red Dog Towers, there have also been some products that have been met with an initial skepticism, but that, after some heated debate, have been thought of as actually quite inspirational…
Overall, the most chat seems to have been generated by Korg, a few small updates to the Kaoss Pad KP3 and the Kaossilator Pro, as well as a new Wavedrum; but we must finish with the MS-20 Mini, that's the piece of kit that steals the show for us. After we've gone through years of virtual analogue, or completely new analogue designs, Korg takes a synth from 1978 on reduce in the copier and adds MIDI and USB. Could the past be the future?
Did anything in particular stand out for you?