7 undeniable reasons why bass players are cooler than guitarists
1. They are rarer. There just aren't as many bassists about. You're in much more demand than guitarists, just check the classified ads in music shops: bands always need bassists (and drummers for that matter, but they seem to have a shorter shelf-life for various reasons). Of course, rarer doesn't always mean cooler, I haven't ever seen an original pressing of a Busted record for example…
2. They make you want to stand up and get your moves on. Take, let's say, your band of drums, bass, guitar, keys and vocals. Remove the guitar, how's that sounding? Now remove the bass and it feels like your urge to tap your foot or mosh like a mad bunch of frogs in a shoebox has been surgically removed.
3. There is a humble self-confidence about them. While your guitarist is standing front-stage, trying to line the pockets of their chiropractor with crazy moves, and performing the most impressive rock-lord facial expressions, the bass player, confident and comfortable in his musical role, stands quietly at the back just making it all groove, but…
4. You can be just as flash and showy as the lead guitarist if you want to. As we learn from the book of Bootsy Collins, you don't just have to live the life of the wallflower, you and your huge star-shaped bass can claim that front and centre stage.
5. You can choose to look just that little bit aloof and superior. You're the bass player, the bedrock, the foundation, they need you. Why not celebrate that with a fantastic Hilary Woods-style pout.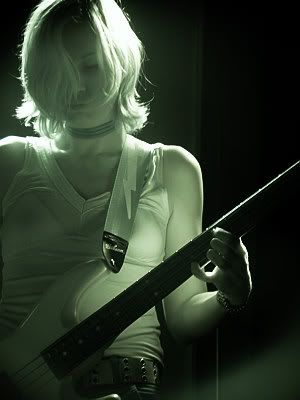 6. You can make the guitarist look good. If you and the drummer are locked in, the rest of the band can make a mistake here or there and the audience probably won't really notice. If you get the rhythm and the groove right, you're already most of the way there.
7. Because Will Baker says so. And he's in charge of repairs at 'Dog towers, so we need to listen to what he says…
Pick up a bass guitar folks! Instant coolness, instant demand for your services, gigging bands, record deals, swimming pools filled with Cava (the industry isn't that strong anymore). With so many people playing the guitar now, perhaps now more than ever, being a bass player is cooler than being a guitarist. Of course, you may not agree…
Looking for a new bass guitar, amp, or effects unit? Click here for a special deal…
[mc4wp_form id="10328″]
Red Dog Music is the UK's friendliest musical instrument and pro-audio dealer. Between our 5000 square foot Edinburgh shop filled with an incredible range of products, and our London showroom in Clapham specialising in high-end instruments, dj and pro-audio, Red Dog Music has you covered from north to south and from performance to playback.