My love for the Epiphone Dot
Introduced in 1997, the Epiphone Dot emerged at a time when countless thousands of people were looking for the perfect instrument on which to belt out Oasis riffs. With Noel Gallagher using several Epiphone instruments, including the Sheraton and Riviera, there was a big market for a more affordable semi-hollow body instrument. Even if you weren't a big Noel follower and preferred the sound of a player such as Larry Carlton, Gibson's ES-335 was several times more expensive than guitars such as the Sheraton and remained just a dream for many players.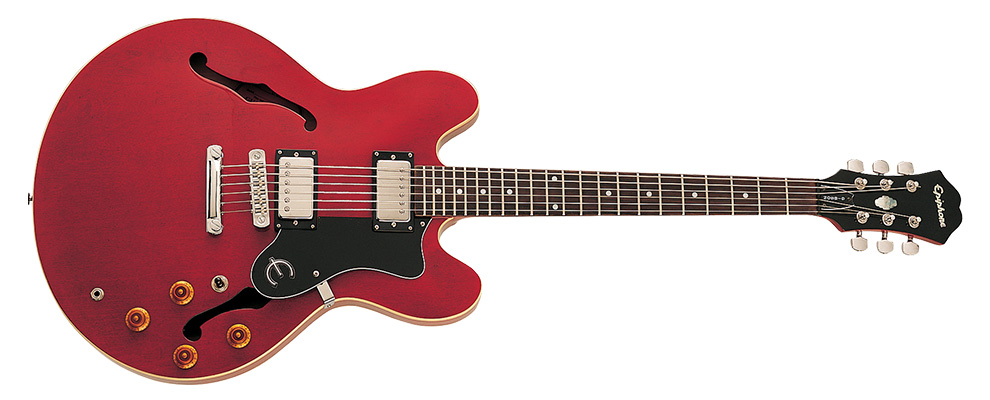 The first Dot sold for (just!) under £400 in '97, but today's Dots sell for under £300 thanks in part to Epiphone's new manufacturing facility. There have been a few changes to the specifications over the years. Until 2008, the Dot featured a maple neck, whereas newer models use mahogany. Early models featured a 'Gibson' inscription on the truss rod cover, with the newer models inscribed with 'Dot'.
I bought my first Dot -in cherry red- in 1997, played some memorable gigs with it, and regret the day I sold it in 2005. The step up in quality from the entry-level instruments I had played before was immense and, I'll admit to being a bit shallow here, but it just looked good. Not that that is unimportant though, seeing it sitting on its stand just made me want to pick it up and play it, which made me a better guitarist.
Given how versatile this instrument is -you'll be sorted from jazz and blues to indie and rock- this is always one of the first instruments on my recommendation list, and now that it's available as part of a bundle with the just-as-versatile Vox VT20 amplifier and all the accessories you need, it's even easier to recommend.
And your journey to semi-hollow perfection needn't stop there. There is nothing to stop you upgrading those pickups to vintage PAF humbucker reissues and getting the instrument sounding and playing so close to a Gibson ES-335 that many folks won't be able to tell the difference, and having saved enough over the Gibbie to buy a (very) decent valve amp and some pedals!
My love for the Epiphone Dot continues to this day. As my first 'proper' guitar it will always have a place in my heart, perhaps it's time that a new Dot went back on my own wishlist…
[mc4wp_form id="10328″]